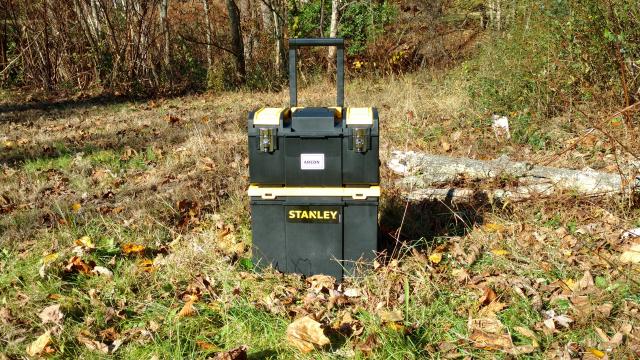 Stanley is a Mesh Go-Kit that I put together at the end of the summer. When deployed, Stanley consists of a 2 GHz WiFi client, and a 5 GHz node capable of being a tunnel client. Both units are NanoStation Loco's. When deployed, Stanley looks like this: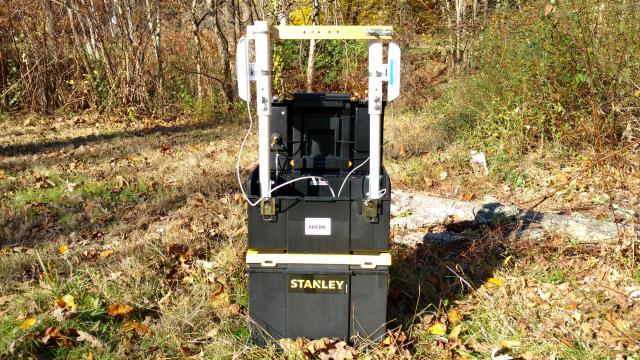 Stanley is built into a 3 piece Stanley rolling toolbox. The PVC arms are on heavy duty hinges which fold up from a plywood base which also houses the various electronics and power circuity components. Keeping the arms from swaying in the breeze is a piece of 1x2 wood with u-bolts around the arms at the top. Looking inside, here is what is on the plywood base: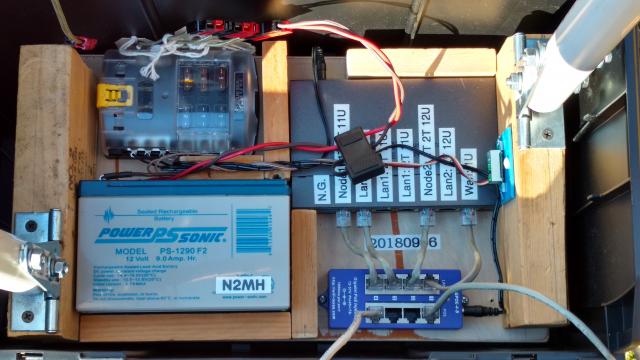 Inside, there is a 12V DC / 7 AH battery, a fused power distribution module, a GS-108e vlan switch, and a PoE Texas multiport ethernet power injector. On the inside of the 2x4 on the right is a small digital voltmeter used to keep tabs on the battery voltage.

Inside the top cover of Stanley is a surprise: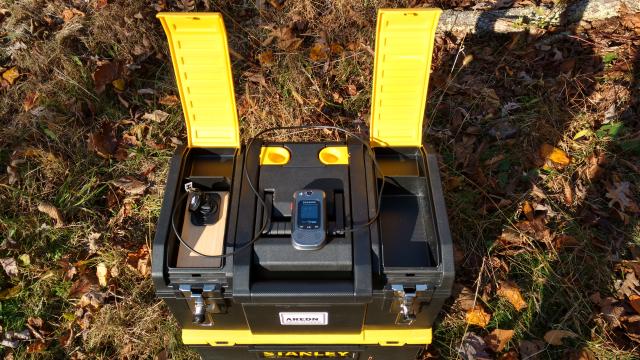 The surprise is a 2 port USB charger for cell phones. (See the left compartment.)

The Stanley rolling toolbox has 3 compartments:
- a top compartment which houses all the active parts of Stanley
- a middle section which has many small compartments, suitable for storing hardware, etc.
- a bottom section which is used for storing bulkier things such as cables, a battery charger, and a VoIP phone.

The Grandstream 1625 phone plugs directly into the POE strip and gets its power from there.




Built into the base of the phone is a reverse POE injector which pulls 12V from the ethernet cable and then runs it through a small 5V switching regulator to power the 5V phone.

When it's time to go back home, everything folds neatly back into the top compartment ready for his next adventure.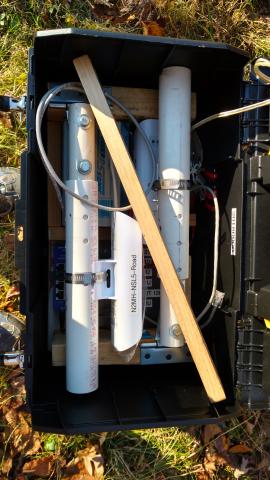 Stanley has room on his POE strip for another node. This node will be powered by the battery and will talk DTD to Stanley's normal 5 GHz node.

I hope you liked meeting Stanley. He is very friendly!