I'm pleased to announce the release of a new AREDN-ready emcomm application: EmComMap

This open-source application enables map-based real-time annotation, messaging, and file transfer.
It is designed for situational awareness while supporting communication, tactical calls, and operator
status/location sharing.

 
Screenshot
(sorry - I don't know how to make this bigger)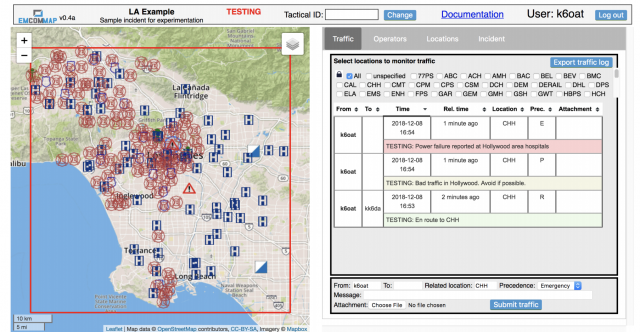 Features
Live map-based annotations
Text communication with file attachments
Messaging specific to defined locations/incidents
Message filtering by location
Operator location and status tracking
Incident-based: filters messages by region and time
Export message logs to Excel
Load locations from text file
Predefined map markers for hospitals, fire, police, etc.
Distributed database (CouchDB)
No encrypted communication layers (Part 97 compliant), though they can be optionally used for internet deployment.

Instructions for deployment on Ubuntu Linux available on GitHub
Links


Comments/suggestions/bugs to K6OAT (Dan Ruderman)

I am seeking developers who can contribute to adding features and the inevitable
bug fixes. If you are skilled with Javascript/HTML please drop me a note.