CQ, CQ, CQ 13cm, Hello 13 cm,

I have just installed a node on 2.4 GHz CH -2, running 10 MHz Channel width in Morgan Hill.

It is listed on the AREDN Map and it tunnels to my other nodes in Laguna Niguel (Socal).

To accommodate the greatest number of new hams wishing to try mesh in this area, I am running a Ubiquiti Bullet M2 with a 15 dBi omni vertical and my QTH is at a ground elevation of approximately 450 ft above MSL.

Please see my coverage map below, these are test points where I hand carried a NanoStation M2 at ground level and was able to establish a neighbor relationship with the base at my home. With higher gain antennas and devices, much greater coverage is possible covering most of Morgan Hill, parts of San Martin, and possibly parts of Gilroy as well. The yellow lines were tests that were made with the base antenna inside the garage. The blue lines are the extended coverage gained by moving the system outside on the roof.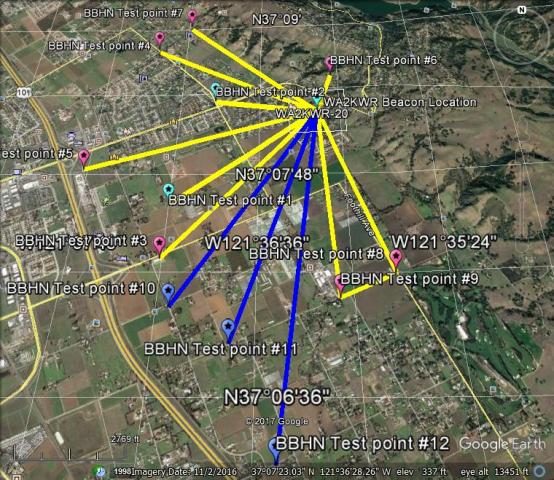 So please look for WA2KWR-20-Morgan-Hill on Ch -2, I would like to see some neighbors soon. TNX

73,
Frank
WA2KWR