Hey All, I'm working on a project for a dedicated portable APRS repeater for use with SAR ops, and I hope to use an old Mic-less Azden 7000h I have sitting around doing nothing. 

I would like to use it with a Mobilinkd TNC2, which means I need to turn the 8-pin into a TRRS connection. 

I am a novice at making adapters, and was hoping that someone could help me figure out how I need to connect these pinouts.

AZDEN PCM-463 MICROPHONE.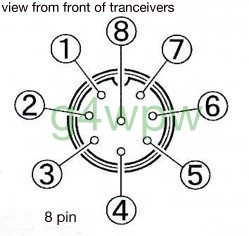 PIN 1  MIC. 
PIN 2  MIC GROUND. 
PIN 3  - 
PIN 4  DOWN. 
PIN 5  UP. 
PIN 6  COMMON GROUND (up/down etc). 
PIN 7  PTT. 
PIN 8  + 13.8 VOLTS. 

Mobilinkd TNC2
TRRS – 3.5mm TRRS audio connector for Radio.
1. Tip = Speaker (audio input to TNC)
2. Ring 1 = PTT 
3. Ring 2 = Mic 
4. Sleeve = GND/Common 

I see where PTT, MIC, and Ground would line up, but I'm unclear on how the "Speaker" input source from the 8 pin would be. 

Any help would be appreciated. 

Thanks.