OKay, so at the moment the LQ and NLQ aren't quite 100% but it is still close.  Let me start from the beginning, We have a Mountain top node that is a rocketM2 and 120 degree Sector. I have a clear unobstructed view line of sight to the Mountain top node about 6-7 miles away.  we are running our system on ch -2 , 10 MHz bandwidth. I am running a nonostation on my tower at about 30 feet  This is my current Neighbor list.  K7MSH on top is the mountain top node, as you can see, the connection is good, but I always show 0 TXMbps. 


if I try to go to K7MSH-WestMountain-NorthEast.local.mesh, it takes around 1 minute to load the main page.  logging into the Mesh status page takes around 1-2 minutes to load.  BUT once I get to the Mesh status page for the Mountain top node (K7MSH-WestMountain-NorthEast.local.mesh) this is what I see. Look at the third node down KD7VEA, Here I see 37.8TxMbps, and if I click on that link, I am back to my node page in under 2 seconds.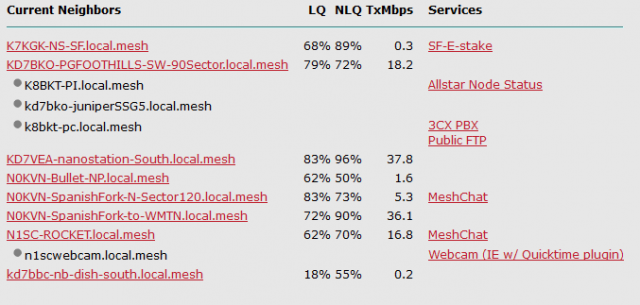 So I have  a couple of questions,In the first screen shot, Where we are looking at K7MSH-WestMountain-NorthEast.local.mesh, 94, 84 and 0 TxMbps where does the 0TxMbps originate from is that K7MSH has 0 data going down to KD7VEA, or is it K7MSH does not see data coming up from KD7VEA.
The next question is what would cause this, and how could I fix this.  It wasn't always like this, a few weeks ago I had a better connection to K7MSH mountain node.  I restarted the mountain node today, and even reflashed my nanostaion today just to be sure there wasn't an issue there. Any help will be greatly appreciated, Im kinda lost at this point.