Hello,

I've just joined the community after an introduction from a K9CQB through the Loudoun Amateur Radio Club (http://www.k4lrg.org). My call sign is KN4AWT and I live in Leesburg in a non-HOA restricted neighborhood. I have a chimney I can attach to, but my roof's pitch is a little high, so I want to wait for better weather to get up there.

K9CQB flashed a MikroTik hAP router I have so I now have a Mesh node, but am isolated.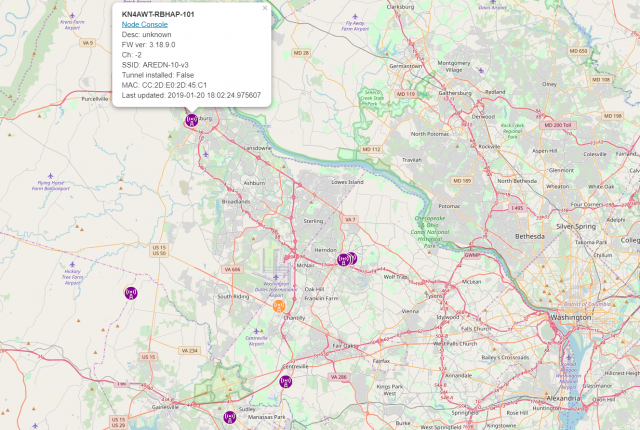 My initial goals are:
0.) Join the NOVA Mesh community
1.) Establish an IP tunnel connection into the Mesh network in the NOVA area to I can join the mesh until I can get RF online
2.) Establish at least 1 robust RF link to a strong RF node in the area
3.) Establish a short distance link To the North of my house to reach the monthly meeting site of the Loudoun Amateur Radio Group
4.) Connect a raspberry Pi to my node and offer some services

For item 1, I am hoping 1 or two nodes would be willing to peer with me via IP. I have a robust ISP at my home, but have a Dynamic Public IP. I have a Dynamic DNS client on my external router, so I have a DNS name I can provide which will always point to my public IP. If anyone in the area can provide a link, I would appreciate it.

For item 2, It looks like the nearest stations are 15-30 km away, I am looking for some guidance on equipment to try. I believe a few members of the local radio club have offered to try some of their high-gain dishes and equipment to see what I can reach from my QTH, so I will likely take them up on that. The nearest station with minimal elevated areas to deal with has two airports in the path, so I am not sure if that would be a problem to point high gain equipment through them.

For item 3, I am thinking a NanoStation M2 or NanoStation M5 will work. As I understand, these are directional and if possible, I'd like to face my node toward the hospital as well.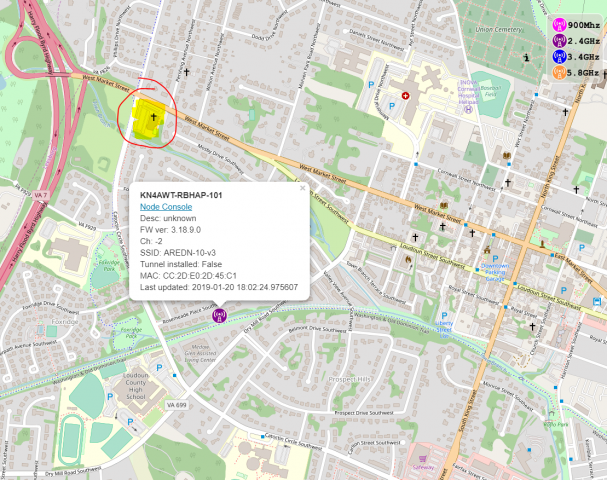 For number 4, My hamshack (and office) have significant battery power, I'd like to isolate a low power setup for AREDN activities.

I am really looking forward to getting involved. Let me know if you have any insight into any of these items. I'll be watching the boards. Thanks!

- Jim
KN4AWT